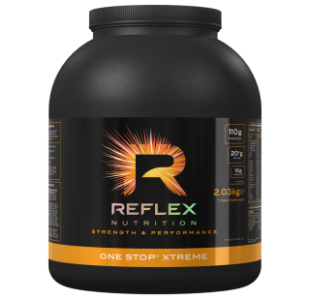 Reflex Nutrition's One Stop® Xtreme all-in-one bodybuilding supplement delivers a superior source of protein and proven nutrients with whey and micellar casein delivering 55g protein, 10g BCAAs and 73g carbs in each serving. Specially formulated to replace the need for numerous supplements.
Read more
Product info
Nutrition
Directions
Comments (0)
Price match
One Stop® Xtreme has been formulated to replace the use of numerous supplements, allowing bodybuilders to simply take one shake and know their nutritional needs are covered, alongside a balanced and healthy diet. It has been specially formulated for bodybuilders looking for a supplement that delivers a superior source of protein and proven nutrients all in one high-performing product, which also tastes delicious.
The science behind it
Each serving of One Stop® Xtreme contains everything a bodybuilder needs from a protein supplement. Its designed to outperform the competition in every single conceivable angle * see table. One Stop Xtreme is not the result of guesswork, its is the result of decades of experience and the ability to understand and extrapolate real data from real studies relating to sports performance. As a result it is not by chance that One Stop Xtreme delivers 55g protein, 10.3g BCAAs, 73g low GI carbohydrates, 5,000mg Creapure® Creatine, 100% RDA of daily vitamins, LAB2PRO® friendly bacteria and DigeZyme digestive enzyme complex, every shake delivers a powerful serving to ensure you get the most out of your training and diet.
Added amino acids include pure free form L-Leucine; Beta Alanine; Betaine Anhyrdous and Taurine. Vitamins and minerals, including patented Albion® zinc and magnesium, contribute to the maintenance of normal protein synthesis, normal function of the immune system, normal testosterone production, protein synthesis, and normal cognitive function.
Newly improved all-in-one bodybuilding protein shake
55g protein, 10.3g BCAAs and 73g carbs per serving
EU sourced whey protein and micellar casein
Contains Creapure® Creatine for high-intensity energy
Added zinc, magnesium and 100% RDA of vitamins
One Stop® Xtreme is a vegetarian product, but it is not suitable for vegans or coeliacs.
EU Derived Whey and Micellar Casein delivering a massive 55grams protein
Lab tested protein content
Completely Free from GMO Soy Protein and GMO ingredients
Huge BCAA Content – 10,320mg
World leading Creapure® Creatine
Patented Bioperine® for optimal absorption
Huge added L-Leucine free form – 3,000mg
Scientifcally proven dose of Betaine Anhydrous – 2,600mg
Huge dose of Beta Alanine – 1,800mg
Huge dose Taurine – 1,500mg
Patented Albion® Magnesium – 150mg
Patented Albion® Zinc – 7.5mg
Digezyme® – 145mg
Patented Bifidobacterium Bifidum – 362,500,000 CFU
Patented Lactobacillus Acidophilus – 362,500,000 CFU
Patented Lactobacillus Rhamnosus – 362,500,000 CFU
Additional vitamins and minerals from A-Z
Buy more, save more!
Buy now