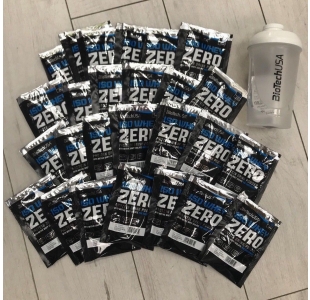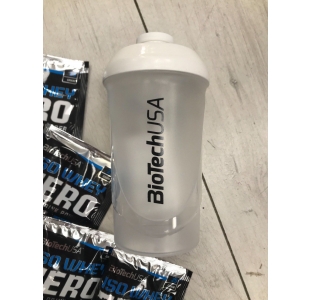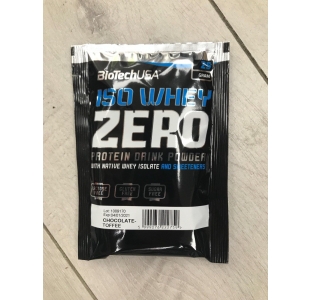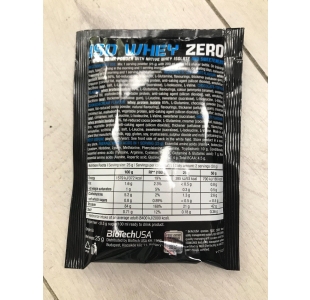 Exclusive BioTechUSA ISO Whey Zero Bundle from Well Fit! 26 fresh sachets of BioTechUSA™ Iso Whey Zero Protein in 13 great Flavours + Free BioTechUSA Shaker!
Read more
Product info
Nutrition
Directions
Comments (0)
Price match
BioTechUSA ISO Whey Zero, is a premium quality sugar-free, lactose-free and gluten-free whey protein isolate with native whey isolate, added bcaa and amino acids. This is a great way to get hold of our handy one-portion sachets and try a great range of flavours at the same time! Never get bored of the same flavour!
Native Whey Isolate basic ingredient
Extremely high protein content
With added amino acids: L-glutamine and BCAA
Fast and easy absorption
Sugar-free, lactose-free and gluten-free
No preservatives, Non-GMO and Aspartame-free
October 2020 use by date
BioTechUSA's Native Whey Protein Isolate is produced directly from fresh milk after pasteurisation with micro and ultra-filtering at low temperature, a unique procedure which ensures the protein structure is preserved in its fullest form, and remains rich in immunoglobulin (antibodies) and lactoferrin (part of the immune system).

Because of its high protein content it is an excellent choice when training if you are looking for a tight and toned body, but can also help those looking to supplement their diet. Each 25g serving contains 94 kcal, 21g protein of which 4.5g is BCAA, branched-chain amino acids.
Protein is an essential building block in your body. It is a source of nutrition consisting of amino acids produced by the body or taken in from external sources. It helps to retain your muscles during workout, dieting or everyday life. Your need for protein increases if you regularly do sports, or if you want to grow muscle mass or when you start ageing.
These great portion sized packs are perfect for grabbing and running to the gym! And you get to try the amazing range of flavours so you'll never get bored!
This exclusive bundle includes 2 of each of the following delicious BioTech flavours.
Banana
Cherry-Banana
Chocolate
Chocolate Toffee
Coconut
Cookies & Cream
Hazelnut
Yoghurt-Apricot
Lemon Cheesecake
Strawberry
Tiramisu
Vanilla
White Chocolate
Buy more, save more!
Buy now