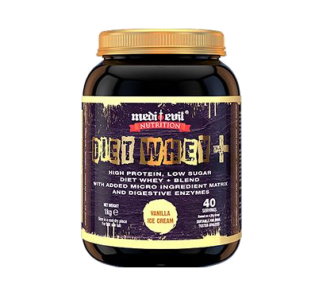 Medi-Evil Nutrition Diet Whey+ is a leading diet protein supplement with added micro ingredients designed to boost metabolism and aid in the development of lean muscle. Diet Whey+ contains a signature 73% protein blend, which is far higher than most other diet protein products currently available.
Read more
Product info
Nutrition
Directions
Comments (0)
Price match
Medi-Evil Nutrition Diet Whey+ is a high protein, low carb diet protein formulation with added micro ingredient matrix to develop lean muscle and improve metabolism. Diet Whey+ contains a signature 73% protein blend, which is far higher than most other diet protein products currently available.
The Diet Whey+ blend consists of Hydrolysed whey protein, Whey protein isolate, Whey protein concentrate, Soy isolate and milk protein concentrate as well as a full micro nutrient profile associated with physique control. Diet Whey+ contains the complex carbohydrate Waxy Barley as its primary carbohydrate source and Medi-Evil Nutrition's patented digestive aid compound Trigesteze®.
For Lean Muscle gains
For Slimmers and Dieters
Metabolic Increasing Ingredients
Unlike most protein based products designed for bodybuilding or performance gains, Medi-Evil Nutrition Diet Whey+ is a low calorie, low fat/ sugar Diet Protein shake for those on a calorie controlled diet who are wanting to achieve a lower Body fat content and lean musculature. Each serving of Diet Whey+ has only 91Kcal per 25g serving when mixed with water and 0.7g of sugar and is perfect for those partaking in a reduced calorie nutritional plan. Diet Whey+ contains CLA, Green tea extract and L-Carnitine. Diet Whey+ tastes and mixes perfectly and can be stacked with CLA and the flagship metabolic booster Excalibur.
Diet Whey+ is suitable for Men and Women looking to lose weight and or build lean muscle. It can be used as a post workout product or meal replacement due to its low calories and high protein content. Whether its circuit training, Cross fit, Pilates or part of a Calorie controlled Diet, Medi-Evil Nutrition Diet Whey is suitable for you.
CLA, or Conjugated Linoleic Acid is an Omega 6 fatty acid and essential in the diet. It is considered a Dietary Supplement due to its multiple health benefits and can be sourced from meat, dairy and vegetable sources. CLA studies in mice and rats have shown to have anti-cancer properties as well as Bodybuilding properties with the development in lean muscle tissue. Medi-Evil nutrition use CLA derived from Safflower Oil.

Green Tea Extract - one of the most commonly used teas globally and is consumed due to its high anti-oxidant and anti-Cancer properties. Anti-Oxidants in Green tea are high in Catechins, which studies have shown to increase antioxidant capacity and protect against stress associated with oxidation. Green tea is associated with a huge number of health benefits including the improvement in heart, Liver and brain health and there are hundreds of studies on the ingredient that show Green tea reduces inflammation and lower blood pressure.

L-Carnitine - which occurs naturally and is an Amino acid derivative associated with lean physique and weight loss. L-Carnitine is a fatty acid transporter, which is often combined with CLA for the purpose of increased energy and physique control. L-Carnitine funnels additional fatty acids into the mitochondria of cells for increased energy boosting metabolism which is a key driver in general weight loss and lean muscle gains.
Package size: 1kg
Go to the Medi-Evil Nutrition website.
Buy more, save more!
Buy now