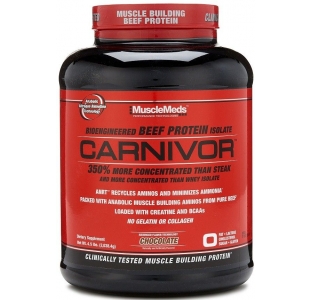 MuscleMeds Carnivor, the World's First Beef Protein Isolate that is 350% more concentrated than steak and more concentrated than whey to provide a non-fat beef protein to help support your training.
Read more
Product info
Nutrition
Comments (0)
Price match
For centuries, beef has powered athletes. Spanning the early foundations of fitness enthusiasts and weight lifters and continuing on with modern day health experts and competitive athletes, beef has been a dietary cornerstone used to spur muscle growth and performance. This bioengineered beef protein is the World's First Beef Protein Isolate that is 350% more concentrated than steak and more concentrated than whey
Strawberry, Chocolate and Cherry Vanilla are all lactose, gluten, cholesterol, fat and sugar free
Peanut Butter is fat, cholesterol and sugar free
Unfortunately, beef is typically loaded with unhealthy levels of fat and cholesterol, and also takes significant time and resources to prepare and consume. Carnivor Beef Protein Isolate is an incredible alternative that has turned the protein market upside down.
Carnivor provide you with 23g of 99% beef protein isolate and contains no fat or cholesterol, allowing you to get the benefits of beef protein in a delicious, fast digesting and convenient protein shake – without the excess calories. Plus, it's lactose, sugar, dairy and gluten free making it easier to digest.
Bioengineered Beef Protein Isolate
23g Hydrolyzed Beef Protein
350% More Concentrated in Amino Acids Than Steak†
More Concentrated Than Whey Isolate
ANRT Recycles Aminos and Minimises Ammonia
Fast Digesting—Easier on the Stomach†
Made with USDA Inspected Beef
Smooth and delicious taste
Packed with Anabolic Muscle Building Aminos from Pure Beef
Loaded with Creatine and BCAAs
Carnivor Beef Protein – Backed By Research
Clinical research substantiates the power of Carnivor beef protein isolate, showing that in just 8-weeks, it helped to double muscle mass gains relative to exercise alone (placebo control group). Plus, participants reported no signs of stomach distress.† These muscle building benefits were also unsurpassed by whey protein.
†The Effects of Beef Protein on Body Composition and Muscle Performance. Journal of Strength and Conditioning Research (published results in-press). Weight and strength gains compared to baseline. Based on 46 grams of beef protein daily.
†These statements have not been evaluated by the Food & Drug Administration. This product is not intended to diagnose, treat, cure or prevent any disease.
See the MuscleMeds website.
Buy more, save more!
Buy now