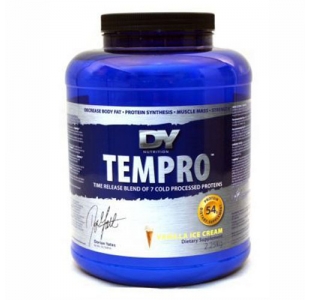 Dorian Yates' TEMPRO™ contains 6 easily digested proteins and is designed to help increase your daily intake to maximise and preserve muscle mass and strength, whilst reducing body fat.
Read more
Product info
Nutrition
Directions
Comments (0)
Price match
Dorian Yates' TEMPRO™ protein is designed for athletes seeking to increase their daily intake of high-quality proteins in an effort to maximise or preserve muscle mass and strength, and/or reduce body fat.
TEMPRO™ consists of a cold processed and carefully configured blend of 6 easily digested proteins including 4 varieties of whey plus egg white, micellar casein and glutamine-containing peptides. Each protein differs in terms of its speed of absorption and onset of anabolic action.
This increases the opportunity for muscle-building effects when TEMPRO™ is consumed in conjunction with resistance exercise, the main-stay of bodybuilding training. Studies have shown that consuming proteins, like those found in TEMPRO™, during pre-and/or post-training produces greater increases in myofibrillar and sarcoplasmic protein, muscle mass, strength and IGF-1 levels.
It also can aid in greater reductions in body fat, among other benefits. TEMPRO™ contains an abundance of micellar casein, which has been shown to produce longer-lasting increases in plasma amino acid levels and greater protein synthesis.
Uses a matrix of 6 cold pressed proteins:
5lb (2250g) 50 servings (36g protein)
Nitrogen balance
Protein synthesis
Muscle mass
strength
Note: These statements have not been evaluated by the Food and Drug Administration. This product is not intended to diagnose, treat, cure, or prevent any disease.
Buy more, save more!
Buy now
Often bought with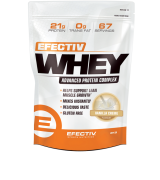 Add to cart