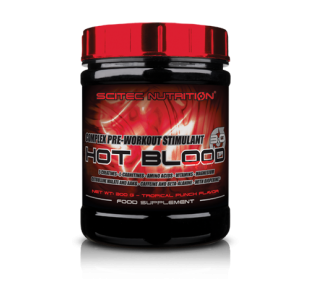 Scitec Nutrition's Hot Blood complex pre-workout formula is designed to support high-intensity training. The 4,500mg multi-creatine matrix is scientifically proven to increase performance in successive bursts of short-term, high intensity exercise like weight training and interval cardio.*
Read more
Product info
Nutrition
Directions
Comments (0)
Price match
When you train or are engaged in physical activity and you reach a certain intensity, your body and blood "heat up" so you can work more efficiently. Scitec Nutrition's Hot Blood complex pre-workout formula is carefully designed to support your body in physical activity, especially during high-intensity training, The 5 component, multi-creatine matrix is 4500 milligrams, and creatine in this dose is scientifically proven to increase performance in successive bursts of short-term, high intensity exercise like weight training and interval cardio.*
5 CREATINES • L-CARNITINES • AMINO ACIDS • VITAMINS • MAGNESIUM CITRULLINE MALATE AND AAKG • CAFFEINE AND BETA-ALANINE • WITH BIOPERINE®

Many of the select ingredients contribute to one or more of the following beneficial physiological effects*:
Normal muscle function
Normal functioning of the nervous system: neurotransmission and muscle contraction including heart muscle
Reduction of tiredness and fatigue
Normal energy-yielding metabolism
Normal amino acid/protein synthesis
Normal psychological function
Electrolyte balance
*These statements have been scientifically proven by the European Food Safety Authority (EFSA) and authorized by the European Commission (EC).
See the Scitec Nutrition website.
Buy more, save more!
Buy now