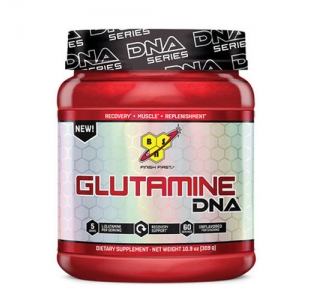 BSN Glutamine DNA an unflavoured source of micronised L-Glutamine powder that you can add to any favourite training and protein drinks with 5g of glutamine per serving.
Read more
Product info
Nutrition
Directions
Comments (0)
Price match
L-Glutamine is the most abundant amino acid in the body and plays an important role in muscle recovery and muscle protein development.* During periods of intense exercise, L-Glutamine levels can be depleted which may limit protein synthesis.* Each serving of BSN Glutamine DNA™ provides 5grams of 100% micronised L-Glutamine, which may help support recovery post-exercise.* Also, Glutamine DNA™ is unflavoured, so you can add to your post-workout protein shake or favourite beverage.*
Glutamine Powder For Recovery and Endurance*
Unflavoured Powder Is Easy To Add To Your Shakes
Supports Recovery*
Supports Muscle Protein Development*
Glutamine Replenishment
100% Micronised L-Glutamine
Unflavoured for versatility - add to your post-workout shake or favourite beverage
* These statements have not been evaluated by the Food and Drug Administration. This product is not intended to diagnose, treat, cure, or prevent any disease.
Buy more, save more!
Buy now