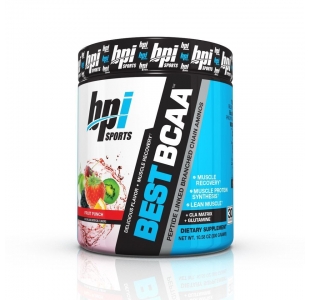 Best BCAA™ with bonded chain of amino acids will help you recover faster, preserve lean muscle mass, and improve exercise performance.
Read more
Product info
Nutrition
Directions
Comments (0)
Price match
BPI's Best BCAA™ is an amino acid supplement that utilises Oligopeptide-Enzymatic Technology. This is a bonded chain of 3 key amino acids: leucine, isoleucine, and valine which may act as a better transport vehicle for faster absorption. For you, this means a faster & more efficient recovery. Best BCAA™ supports the decrease of protein catabolism, or breakdown of protein, for preserving lean muscle mass and reducing soreness after a workout*.
Oligopeptide multi-chain linked bcaa for enhanced muscle recover*
Supports muscle protein synthesis, stamina and performance*
Decreases protein catabolism, promotes strength & muscle repair*
The branched chain amino acids found in BPI's Best BCAA™ (leucine, isoleucine, and valine) cannot be produced naturally in the body – therefore we have to supplement with them in order to enhance protein synthesis and increase muscle growth over time. The Oligopeptide-Enzymatic Technology takes the 3 amino acids, concentrates them, and bonds them together to maximise muscle recovery, lean muscle building, and enhanced onset time (which means it kicks in faster!).*
Oligopeptide-enzymatic technology bonds the 3 amino acids leucine, isoleucine, and valine, which may act as a better transport vehicle to support metabolism, enhanced muscle recovery, and muscle building.* CLA matrix blend aids in supporting lean muscle building, preserving lean muscle mass, and reducing body fat.*
* These statements have not been evaluated by the Food and Drug Administration. This product is not intended to diagnose, treat, cure, or prevent any disease.
20 loyality points for this product
Buy more, save more!
Buy now