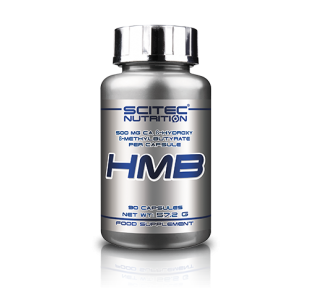 Scitec Nutrition HMB 500mg Ca β-Hydroxy β-Methylbutirate per Capsule, a metabolite of the essential amino acid Leucine.
Read more
Product info
Nutrition
Directions
Comments (0)
Price match
HMB, ß-hydroxy ß-methylbutyrate is a metabolite of the essential, BCAA amino acid Leucine and it is synthesised in the human body. It produces about 0.2-0.4 grams per day. Standard doses used in research studies have been around 3 grams per day.
L-Leucine itself is becoming a more and more popular ingredient as a great amino acid for bodybuilders. The advantages of HMB are that it does not cause fat gain or water bloat, it's not stimulant and has no hormonal effect. This product is designed for sports people to be used both in the off-season and during contest preparation. HMB is suitable for long-term continuous use.
Also available as a 900mg mega dose.
Contains 90 capsules.
See the Scitec Nutrition website.
5 loyality points for this product
Buy more, save more!
Buy now