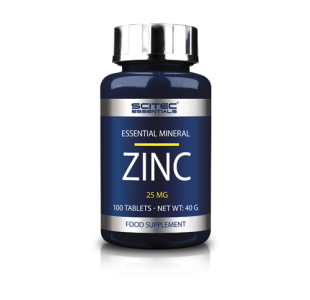 Scitec Nutrition Zinc is essential to many of the bodies functions including the immune system, cell division and growth and the healing of wounds.
Read more
Product info
Nutrition
Directions
Comments (0)
Price match
Zinc is a mineral that is involved in thousands of bodily functions and this is the only metal, which appears in all enzyme classes. Zinc contributes to normal DNA synthesis; normal acid-base metabolism; normal carbohydrate metabolism; normal cognitive function; normal fertility and reproduction; normal macronutrient metabolism; normal metabolism of fatty acids; normal metabolism of vitamin A; normal protein synthesis; the maintenance of normal bones; the maintenance of normal hair; the maintenance of normal nails; the maintenance of normal skin; the maintenance of normal testosterone levels in the blood; the maintenance of normal vision; the normal function of the immune system; the protection of cells from oxidative stress; and has a role in the process of cell division.*

*This statement has been scientifically proven by the European Food Safety Authority (EFSA) and authorized by the European Commission (EC).

Contains 100 capsules.
See the Scitec Nutrition website.
15 loyality points for this product
Buy more, save more!
Buy now