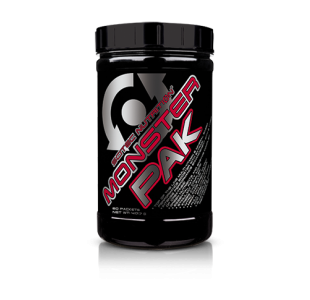 Monster Pak is Scitec Nitrition's top of the range multi-vitamin, mineral, amino acid and essential fatty acids formula offers a full spectrum solution to your nutrient needs.
Read more
Product info
Nutrition
Directions
Comments (0)
Price match
Scitec Nutrition Monster Pak Performance Multi Vitamin & Mineral Booster PLUS Extras!
Monster Pak is Scitec Nitrition's top of the range multi-vitamin and mineral formula with high doses of B-Complex vitamins and Vitamin C (with Rose Hips), plus essential minerals including Selenium and Zinc.
Vitamin C contributes to the normal function of the immune and nervous systems, and to the reduction of tiredness and fatigue*. It also helps to maintain the normal function of the immune system during and after intense exercise (the beneficial effect is obtained with a daily intake of 200 mg in addition to the recommended daily intake of Vitamin C)*.

Vitamin D contributes to the maintenance of normal muscle and immune system function, and to the normal absorption/utilisation of calcium and phosphorus.* Zinc contributes to normal fertility, reproduction and to the maintenance of normal testosterone levels, and also to normal macronutrient metabolism.*

Magnesium contributes to normal functioning of the nervous system: neurotransmission and muscle contraction including heart muscle; also to normal protein synthesis and to the maintenance of normal bones and teeth.* Selenium contributes to normal spermatogenesis, to normal thyroid function and to the maintenance of normal hair, nails.*

Monster Pak provides a "greens" herbal blend with digestive enzymes. A complete whey protein based amino acid complex is responsible for a supply of essential aminos including BCAA's. The Nitric Oxide (NO) precursor L-Arginine is also included.
Monster Pak wouldn't be complete without stimulants, different forms of L-Carnitine and Creatine, a Glucosamine - Chondroitin - MSM complex, and D-Aspartic Acid!

*These statements have been scientifically proven by the European Food Safety Authority (EFSA) and authorised by the European Commission (EC).

Contains 60 packets and 30 servings.
See the Scitec Nutrition website.
35 loyality points for this product
Buy more, save more!
Buy now