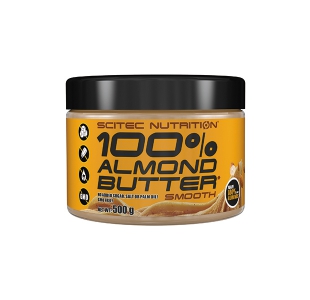 Scitec Nutrition 100% Smooth Almond Butter, GMO free with no added sugar, salt or palm oil.
Read more
Product info
Nutrition
Directions
Comments (0)
Price match
Scitec Nutrition's 100% smooth Almond Butter is a natural source of healthy fats including mono- and polyunsaturated fats. This, together with great taste, make it an ideal snack for athletes requiring improved calorie and fat intake.

Replacing saturated fats with unsaturated fats in the diet contributes to the maintenance of normal blood cholesterol levels. Reducing consumption of sodium contributes to the maintenance of normal blood pressure.
Made from 100% almonds
No added sugar, salt & palm oil!
GMO free
Contains 20 servings.
We also offer Scitec Nutrition 100% Cashew Butter, 100% Peanut Butter and Peanut Butter + Protein.
See the Scitec Nutrition website.
Buy more, save more!
Buy now